In San Francisco and Marin
Has adoption touched your life?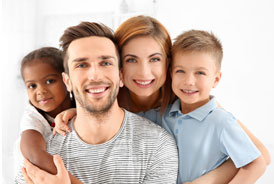 "Should we adopt?"
First: Understand that the process of adoption can be very challenging.  Beyond the usual financial expense of adoption, is the emotional experience of uncertainty – wanting to know, but being unable to know – just how long it will take until your child arrives in your arms.  First among the myriad of differences between biologically conceiving and adopting, is the vast degree of uncertainty of the time frame and the outcome.  Prepare yourself for a wide array of emotional experience during this period of time.
"Should I adopt?"
Are you willing to be a single parent?  Do you have the resources to be a single parent throughtout the lifespan of your child?
"What should I consider in raising my adoptive child?"
Get to know your own personal experience of the adoption.
• Acquaint yourself with your emotional experience of having adopted a child.
• If there has been infertility, look within about any feelings you may have about this.
How comfortable are you with having a child who may be very different from you in temperament, in intellectual, artistic, and other aspects of human development?
• How comfortable are you with having a child who has very different inclinations in life than your own?
• How comfortable are you with having a child who does not have your genetic coding?
It is important to actually get to know your child – free of your hopes or expectations – with as much curiosity as much as possible, especially since your child's strengths, weaknesses, interests, and orientations toward the outside world may or may not resemble your own.
 "Should we have on-going contact with the birth or surrogate mother?"
Whether to have an "Open Adoption" or not is as personal a choice as any decision you make as you give form to your family.  What is most important is that you are comfortable with your decision.   There is no "right" answer.  I would be happy to explore with you the kinds of choices that you make, so that they are conscious choices, based on the values that are most important to your lives.
 ″I was adopted and wonder how it has affected my life.″
Adopted children and adults may experience rejection more intensely. It is important to not take on – or believe in – the projections, beliefs, and assumptions that others have about your being adopted or about adoption itself. Talk about your experience of being adopted.  Get to know and value yourself as an individual that may be similar or quite different from the family in which you were raised.
 ″Should I look for my birth parents? ″
Searching for your birthparents or a biological child is a decision that is deeply personal one makes for one's self.  There is no right or correct answer of what one should do.  Searching for biological parents or a biological child is making a conscious decision of going into the "unknown" – because we do not know what the result will be. 
Will you be accepted?  Or not?
Be ready for either.
• If you were to be rejected by your biological parent, would you be able to understand that being rejected has absolutely nothing to do with you and everything to do with your biological parent?
• If you were to be accepted by your biological parent, can you be prepared for that parent's wish to be a part of your existing family? Are you prepared for your adoptive parents' reactions? Have you discussed this with them or do you wish to keep your finding a secret?
 What are your motives for searching for your biological origins?  
Meeting one's birth parent can be an integrating experience in some indefinable way.  For some people, just meeting a biological parent, who has some physical resemblance to their self, is very satisfying as it connects them to the world in which they have lived.  On the other hand, a meeting can also potentially be a disappointment, if one brings certain expectations along with one's self to that meeting that are not met.
Therapy for adoptees, biological parents, or adoptive parents, whose children are searching  –  can assist with becoming more conscious of all the feelings about this decisive fact of your life and how the moment, the life, and path of adoption has affected you.
Allow me to help and guide you through the various aspects of adoption – as I provide both support and education through this unique life passage.